6.5 KILOWATT GRID TIE SOLAR SYSTEM IN USE AT LIVING EARTH FARMS
CLICK ON PICTURE TO SEE REAL TIME SOLAR POWER GENERATION AT THE FARM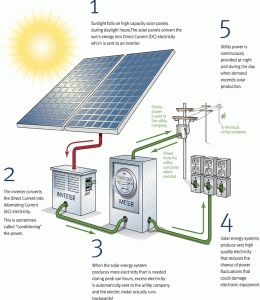 In the spring of 2014 with the help of Green Guy Solutions and some solar panels we purchased at an auction we installed the first phase of our solar power project with 11 solar panels of varying wattage mounted to the roof of our barn. We decided on a grid tie system in order to eliminate the added cost and maintenance required for a battery storage system. the initial system produced a peak output of about 2.4 kilowatts per hour. We decided on using micro inverters on each panel to optimize the power produced by each panel. Although we were impressed with the initial production our power usage in the greenhouse during the winter months clearly showed we needed to expand the system. During winter the additional electricity required to run the pumps, heaters and lights in our greenhouse in addition to our Geothermal heating unit for the house quickly used up any electricity produced in the shorter days of winter.
In the spring of 2015 we called Matt at Green Guy Solutions and began to design the expansion of our solar system. After reviewing our space on the barn roof we found we could add an additional 13 solar panels to the initial system. We decided on 300 watt panels with individual micro inverters for the expansion. Matt from Green Guy Solutions did an excellent job with the installation and when completed the peak capacity of the new system was right around 6.3 per hour. With the addition of a power logger and some remote viewing software from ABB we are able to monitor in real time the power production of the unit and data on each component of the solar system. The software also keeps track of the environmental benefits of the unit including the amount of greenhouse gases saved by the unit and the carbon offset. So far the system has reduced the amount of C02 emitted to the atmosphere by over 16,000 pounds! By clicking on the image above you can see real time data generated by the system.
We are currently in discussions with Green Guy Solutions on another solar project. This will involve the comparison of the solar production of two identical wattage system with one utilizing an active tracking system to optimize power production by tracking the suns movement through the day and season. This will be compared to an identical system without the active tracking to determine the cost effectiveness of the active tracking system. We hope to have the funding to begin the project late in 2016 or early 2017.
Share and Enjoy